Multiple system atrophy (MSA) is characterized by the accumulation of cytoplasmic inclusions filled with the neuronal protein alpha-synuclein (α-syn) within oligodendrocytes. Oligodendrocytes are a selective type of glial cells that provide support and insulation to neuronal axons, creating the myelin sheath around them. Accumulation of α-syn together with the oligodendrocyte-specific protein TPPP/p25α ultimately leads to oligodendroglial degeneration and neuronal demise. Oligodendrocytes in the brain contain p25α, but very low levels of endogenous α-syn.
In this study published in Acta Neuropathologica IMPRiND partner BRFAA aimed to identify the mechanisms underlying the abnormal accumulation of α-syn in oligodendrocytes and to uncover the role of p25α in MSA development and progression. Utilising in vitro and in vivo experimental models of MSA, this study demonstrates for the first time that endogenous oligodendroglial α-syn, is a major component of such insoluble, highly aggregated, pathological assemblies. Interestingly, the over expression of p25α accelerates the recruitment of endogenous protein and the generation of such aberrant species, upon addition of preformed fibrils (PFFs). In primary oligodendrocytes and in the mouse brain, the microtubule and myelin networks are disrupted, thus recapitulating a pathological hallmark of MSA, in a manner totally dependent upon the seeding of endogenous α-syn, since these phenomena are not observed in mice lacking α-syn expression.
Such data suggest that endogenous α-syn and oligodendroglial phosphoprotein p25α form a dangerous dynamic duo that predisposes oligodendrocytes to accumulate intracellular α-syn aggregates reminiscent of the oligodendroglial inclusions in MSA brains. Importantly, the identification of endogenous oligodendroglial α-syn as a major culprit for the development of pathology in vitro and in vivo, suggests that manipulation of the expression of α-syn and/or p25α in oligodendrocytes, may provide a rationale approach to combat its accumulation and the progression of MSA.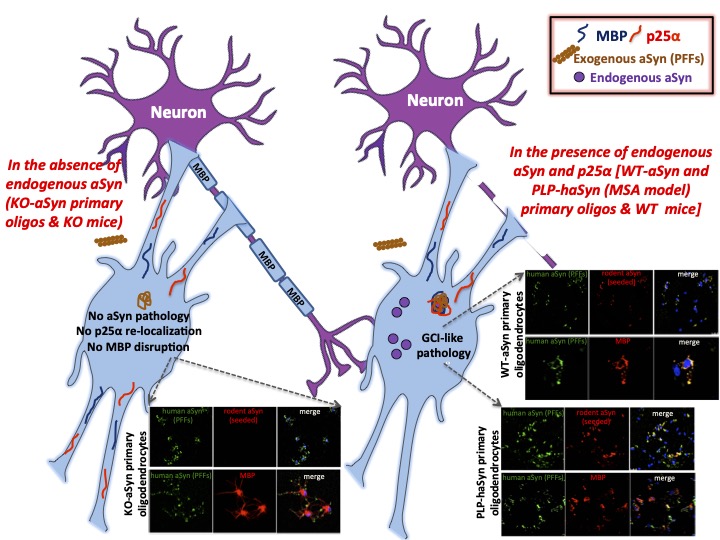 In the absence of the endogenous oligodendroglial α-syn, PFF addition does not trigger the formation of pathological α-syn assemblies and the disruption of MBP network within oligodendrocytes